Vê Fîloyên Volumetric Piston ji hêla pîşesaziyê ve di warên xwarin û vexwarinê, Lênerîna Kesane, Kozmetîk, Agriculturalandinî, Derman, Lênihêrîna heywanan û Kîmyewî de tête bikar anîn.
Itawa dixebite:
Ev rêza makîneya dagirtinê ji bo makîneya dagirtina pincara otomatîk e. Bi rêya cilûbergê ji bo kişandina pêşgotinek ji bo kişandina û derxistina materyalê, û piştre bi pêveka yek-rê ji bo kontrolkirina leza materyalê.Wek zivirîna magnetîkî ji bo kontrolkirina lêdana stûyê cilûbergê, hûn dikarin pîvaza dagirtinê bicîh bikin.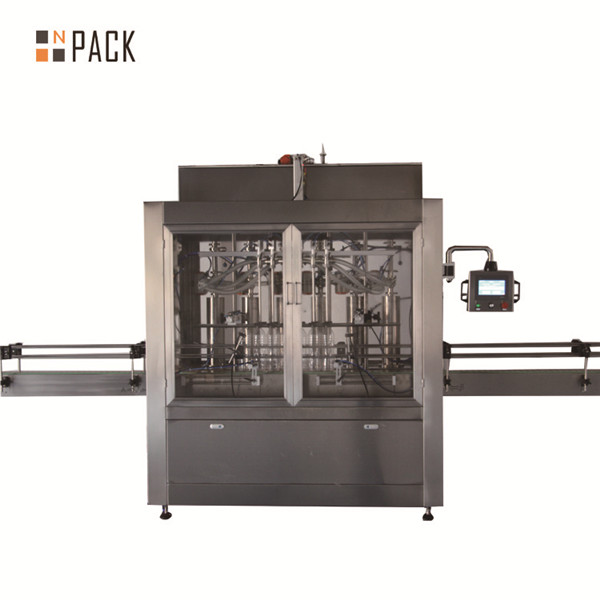 Birêvebirinî:
Ev otomatîkî makîneya dagirtina piston li ser bingeha makîneya dagirtina xwerû ya bingehîn e, bi navgîniya danasîna teknolojiya makîneya dagirtî ya pêşkeftî li hundur û derveyî welat, û rêzek veguherîn û nûjeniyê çêke, Piştre strûka wê hêsan û maqûltir e, bi tamxweşiyê di dagirtinê de. Parçeyên di têkiliyê de bi materyalê re ji 304 stûr têne çêkirin û li gorî hewcedariya GMP-yê li hev dikin. Pêkêşên pneumatic bi Almanya FESTO, Taiwan Airtac, SHAKO û pêkhateyên din ên kontrolkirina pneumatic ên metal re têne kirin. Dabeşên rûnişkandinê ji polîtrafluoroetilen û materyalê silica gel pêk tê, bi berxwedana korrozyonê, dijî-pîrbûn, germahiya bilind, sekinandina baş, hwd. Ew ji bo xwarin, derman, kîmyewî, kozmetîkî, rûn, pesticide û pîşesaziyên din jî tête çêkirin. alavên dagirtina îdeal.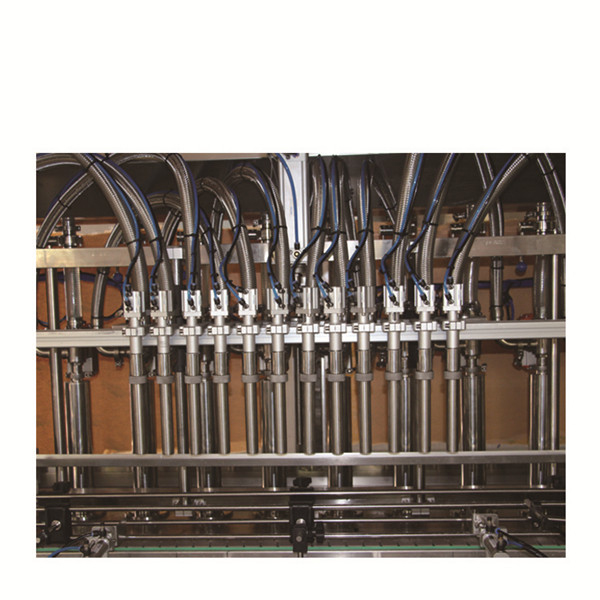 Taybetmendiyên hilberê
Operasyon: Panela kontrolê.
Guhertina Hilbijêrker ya Semi Auto / Continuous.
Hemî Beşên Têkilî Bi Hilbera Grade Food in.
Constructionêkirina Steeliqlê Zeytûnê.
Sêwirana Pergala Rotary Valve ya Rugged.
Pergala O-ring a silica gel.
Rêzeya Leza Piston Feed.
Vebijêrk no-drip tête saz kirin û saz kirin.
Paqijkirin û domandin hêsan e.
Stainless Steel Stainless Steel Fittings Quick Disconnect.
Karê hêsan e.
Rêzikên Pneumatic Pêkvekirî / Nekêşbikin.
Operasyona Pneumatic.
Bi pîvanek tîrêjê hewayê, Adjustment Piston Volume Adjust.
Zexta hewayê ya hewayê.
Nermkirina hewayê 3-5KG 0.4-0.6MPa.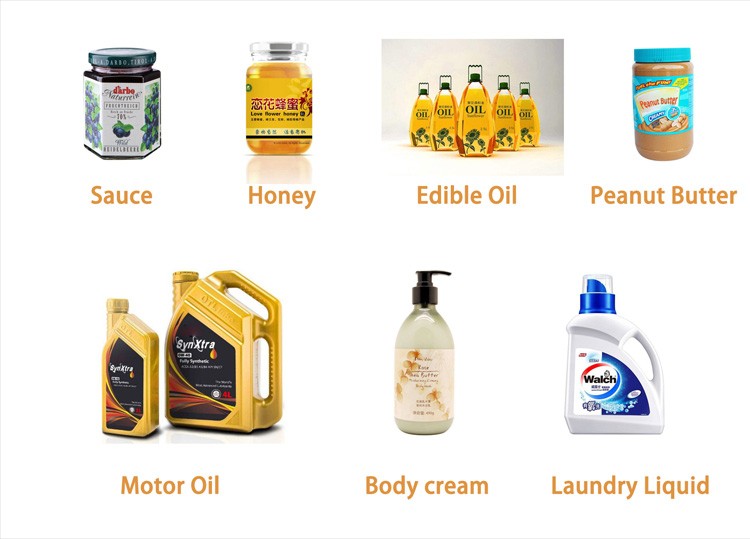 Daneyên Teknîkî
Voltaya elektrîkê: 220v
Hêz: 10w
Qumarê dagirtî: 100-1000ml
Serê dagirtin: serê duduyan
Zexta hewayê rêjandî: 0.4-0.6MPa
Leza dagirtinê: 20-60 şûşan / min
Rastiya tijîbûnê: ± 0.5% - ± 1%
Weight: 44kg (96.8lb)
Leza: Nêzîkî 2-50 r / min
Rastî: ≤ ± 1%
Mezinahiya makînê: 1150 × 680 × 550mm (45.26 "× 17.98" × 21.65 ")
Mezinahiya pakêtê: 1160 × 550 × 335mm (45.67 "21.65" 13.19 ")
Pakêt
1 Unit Yekîneya sereke
1. Destpêka Rêbernameya ×ngilîzî
1 List Navnîşa pakkirinê
1 cert Destûrnameya hilberê
1 × Set of hexagon wires (1.5,2.5,3,4.5)
1 × Rengê nîşankirina alingêkirinê (Tîpa O, planarity)
Kaşka 1 × "+"
1 × "-" screwdriver
Pêşniyarên ewlehiyê:
Li gorî zagonan, hêza elektrîkê û çavkaniya gazê bikar bînin, divê hûn di rewşek xebatek domdar de aramiya çavkaniya gazê biparêzin û ew jî nekare pir zêde û pir kêm be. (Moşena tijî ya teqemeniya pneumatic bêyî hêza tê bikar anîn.)
Berî ku hûn yekîneya veqetandin an jî xizmetê bikin, Pê bawer e ku hûn hewaya hewayê û hêza xwe qut bikin.
Nîvê paşîn ê makîneyê (li nêzikê bişkojka kontrolê) û beşa jêrîn a rackê, bi hêmanên kontrolkirina elektrîkê ve tê. Matteru tişt di bin çi mercan de hûn nekarin rasterast laşê sereke bişon, an na dê xetereya şokê elektrîkê hebe, zirarê li pêkhateyên kontirola elektrîkê bike.
Ji bo pêşîlêgirtina şokê elektrîkî, makîneyek xwedan erdhezek baş heye, ji kerema xwe makîneyê bi rûkenek elektrîkê ya rasterast an rasterast li ser amîrên sazkirinê ya laşê makînê ve bikin.
Piştî ku zivirîna hêzê vekişîne parçeya kontrola elektrîkê ya makîneyê ya li ser qada li wir hîn jî voltaja heye. gava ku hûn tamîrkirina xeletiya qontrol bikin kontrol bikin, ji kerema xwe ku hûn kabloya hêzê ji holê rakin.
Di gava xebatê de çavê we nêzîk nabe serê serê dagirtî, û bala xwe bide ewlehiya kesane.
Hûn di dema xebatê de hûn nekarin destê xwe bavêjin bin axa navendî ya sindoqê, bala xwe bidin ser milê xwe.
Isêtirîn e ku hûn berî ku paqijker di karanîna materyalê de makîneyê paqij bikin, û ji bo paqijkirina avê bikar bînin, da ku ji ber tevlihevkirina neftê an materyalên derveyî dûr bikin, ku di encamê de hilweşîna materyalê û zirarê çêbikin.
Kar ji hêla faktorên jêrîn ve têne bandor kirin:
Faktorên ku bandorê li rastbûna dagirtinê dikin: aramiya hewayê ya tevlihevkirî, yekîtiya materyalê, leza dagirtinê.
Faktorên ku bandora bilez a tijî dike: viscosity of the material, mezinahiya cylinder, mezinahiya nozzle, zayîna operator.
Moşen du rê hene, tijîkirina şûnda lingê û dagirtina otomatîkî ya domdar, du rêbazên dagirtinê dikare bi rengek zindî bêne veguherandin. Di destpêkê de tê pêşniyar kirin ku meriv pîvandina şûnda lingê bikar bîne.
Moşena tijî ya Piston